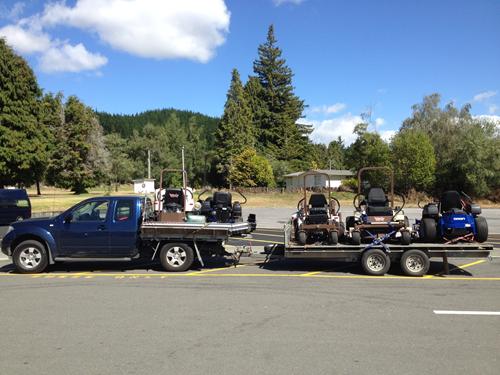 Zero Turning Radius Mowers Limited (t/a ZTR Mower) is an established Tauranga based family business that prides itself on selling quality products and providing excellent customer service.
In 1987 ZTR Mowers brought the Zero Turning Radius concept to New Zealand with the Dixon ZTR. For more than 25 years we have successfully distributed and supported the Dixon ZTR brand. In 2011 ZTR Mowers took over the NZ distribution for Grasshopper ZeroTurn mowers. Since then the Grasshopper brand has proved to be a high quality product which is popular with our customers. In 2019 ZTR extended their zero turnn mower range with the inclusion of the Wright Stand-on mower brand.
We go to extra mile to provide spare parts and back up service. It is not uncommon for customers in the far corners of New Zealand to be known by name by those working at ZTR Mowers.
A ride on mower with a Zero Turning Radius is exceptionally manoeuvrable and can turn on the spot. This achieved through hydraulic motors which independantly drive each rear wheel. Speed and directional control is through two levers. This gives the operator the ability to mow the sharpest corner or around the smallest tree without backing up or gear changing. Compared with a steering wheel ride on a zero turn ride on can cut your mowing time in half.
For more information on how to cut your mowing time in half call 07 543 2700 or email info@zeroturnmowers.co.nz
To learn more about operatting a zero turn ride on mower and the easy operation and handling of a Grasshopper Ride on Mower watch the video below.
ZTR Mowers privacy statement:
We collect personal information from you, including information about your:
name
contact information
location
interactions with us
We collect your personal information in order to:
supply information on the goods and services we offer
Providing some information is optional. If you choose not to enter your contact details, we'll be unable to follow up and meet your needs.
You have the right to ask for a copy of any personal information we hold about you, and to ask for it to be corrected if you think it is wrong. If you'd like to ask for a copy of your information, or to have it corrected, please contact us at admin@zerturmowers.co.nz.